Scaterd Few : Sin Disease LP!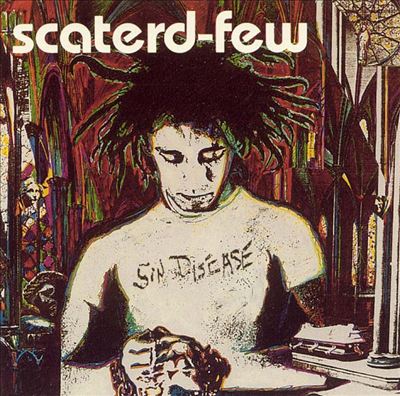 One of my favorite punk albums of all time is Scaterd Few's Sin Disease which was released in 1990. To mark the 25th anniversary, the album has been remastered and btv will be pressing the album on vinyl for the very first time. This is a limited, one-time vinyl pressing of this classic. It will come with a digital download and be in a gatefold jacket. This is a pre-order and will ship for the July 2015 release date. There is also an option to get the LP with an eBook download that Allan Aguirre is writing about the record.
"Merciless, brutal, neurotic, Tourettic, and consistently stunning, Scaterd Few's debut didn't push the boundaries of rock — it annihilated them. Allan Aguirre's vocal delivery was chilling: a wild, unconstrained howl that went from gothic moan to banshee yelp within the space of a single lyric. He sings like a man on fire, wild-eyed and crazy, yelping out each dire prophecy as if every word might be his last. The band's music is equally urgent. Scaterd Few summoned a mad-scientist hybrid of dub, reggae, post-punk, and heavy metal that outshone even visionary avatars like the Pop Group." — Allmusic.com
Here they are on video from October 1990 when they toured the west coast with HR from Bad Brains.

:::scott:::